Who We Are
Inclusion & Diversity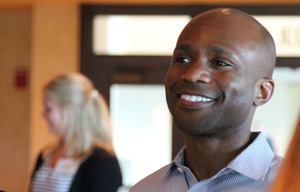 As a global firm, we recognize that attracting and retaining associates with different backgrounds and varied perspectives not only fits our culture, but gives us a better understanding and appreciation for the unique needs of our clients.


Baird's commitment to inclusion and diversity stems from a strong culture of integrity, genuine concern for others and respect for the individual. That commitment is reinforced by the dedication of our executives as well as the many associates throughout the firm who volunteer to serve on our Business Diversity Council and our Associate Resource Groups.
We don't just respect our differences, we value them. And we believe inclusion and diversity creates great outcomes for everyone we serve.
Read our Diversity Statement to learn more about Baird's long-standing commitment to diversity.


Internal Associate Resource Groups
WARG - The Women's ARG was created to develop and support a competitive work environment that will attract and retain women in all levels of the organization through increased awareness of women's initiatives and collaborative approaches on education, career development, networking opportunities and mentoring. Members of the Women ARG share a common vision of making Baird the employer of choice for women in the financial services industry. Anyone can participate as an at-large member or become more involved in various leadership roles.


SPECTRUM - The members of this ARG address the needs and interests of Baird's lesbian, gay, bisexual and transgender associates, as well as the unique business opportunities that exist within the broader LGBT community. The group provides Baird's LGBT associates and their allies with a network of peer and mentor support, as well as resources for professional growth and development. Membership in Spectrum is open to all associates, regardless of gender or sexual orientation.


PRISM - PRISM's mission is to provide Baird associates of underrepresented ethnicities with support, resources and opportunities for professional growth and development, and to increase networking and community engagement, in order to facilitate a more inclusive environment that recognizes the value that all associates contribute to Baird and its culture.


PULSE - PULSE is an ARG standing for Professionals United for Leadership and Social Enrichment and explores the needs and trends of Baird's next generation through the promotion and engagement of ARG, firm and community opportunities. PULSE is committed to the professional development and retention of Baird's next generation of associates thus providing opportunities for networking, information sharing, and skill building. Despite their focus on Young Professional topics membership is open to associates of all ages that are interested in networking and professional development.
Programs
Summer Rotational Program
Diversity Recruiting & Community Partners


Partnering With The Best