Who We Are
Associate Resource Groups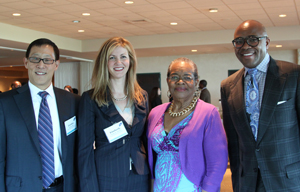 Driving Baird's activity and business goals in areas where our associates have professional and personal interests, Associate Resource Groups were developed at the request of associates in 2009 and are run by associates themselves. More than 1,000 associates are members of at least one of our five ARGs.
Created at the request of employees and as part of Baird's commitment to inclusion, these associate-led groups promote engagement while providing networking and leadership opportunities. Baird's Associate Resource Groups (ARGs) include:


Baird Gives Back ARG

icon: toggle
Seeking to deepen the involvement of Baird associates in volunteer opportunities and build Baird's brand as a valuable corporate citizen worldwide, the Baird Gives Back ARG contributes thousands of hours of volunteer time to a variety of nonprofit organizations across the United States and overseas.
This group's keystone effort is Baird Gives Back Week, a one-week event filled with coordinated volunteer activities during which associates work together to perform community service, serve those less fortunate, read to children, support the arts and more. Taking place each May, Baird Gives Back Week involves nearly 1,000 associates from roughly 50 Baird offices in the United States, Europe and Asia.
Other group efforts include holiday toy drives in multiple cities and maintaining various volunteer efforts year-round.
ECO ARG

icon: toggle
The mission of the Environmental Conservation Opportunities ARG is to foster an eco-responsible mindset by building awareness and offering education in areas where Baird and its associates can create and improve environmentally sustainable practices. ECO strives to provide associates with educational opportunities throughout the year by hosting quarterly lunch-and-learn sessions on various eco-friendly topics, participating in an annual Earth Day celebration and sharing tools and resources through our electronic newsletter. We are also making an impact through eco-friendly business practices, such as using recycled products, reducing paper usage and encouraging our clients to receive paperless statements.
Through a core committee and "ECO-Champions" – associates in branch offices who help with ECO's efforts – ECO gives Baird associates a chance to become more involved and make a difference in the environment both at work and at home.
PRISM ARG

icon: toggle
PRISM, Baird's Multicultural ARG, is designed to provide Baird associates of underrepresented ethnicities with support, resources and opportunities for professional growth and development. Through hosting semi-annual Career Exploration Sessions featuring different business units, organizing study groups for securities industry licensing and coordinating our team for the annual United Negro College Fund Walk/Run, PRISM increases associates' exposure to opportunities at Baird and helps facilitate a more inclusive environment that recognizes the value that all associates contribute to our firm and its culture. With all of its programming, PRISM strives to increase associate engagement across peer groups, business units and offices firmwide, offering ideas to help resolve challenges regarding the recruitment and retention of diverse associates at Baird.
Spectrum

icon: toggle
The Spectrum ARG addresses the needs and interests of Baird's lesbian, gay, bisexual and transgender associates, as well as the unique business and recruiting opportunities in the broader community. The group provides Baird's LGBT associates and their allies with a network of peer and mentor support, as well as resources for professional growth and development. Spectrum members explore and advise on opportunities to attract and retain top LGBT talent. The group also works to align the various business capabilities of the firm with the broader LGBT community to serve client needs. Membership in Spectrum is open to all associates, regardless of gender or sexual orientation.
Women ARG

icon: toggle
The Women ARG shares a common vision of creating and supporting a competitive work environment at Baird – one that attracts and retains women in all levels of the organization. Through recurring professional development sessions, small networking groups and our annual "Women at Baird" event, the Women ARG facilitates networking and mentoring, identifies challenges within the workplace and helps drive recruitment and retention of top-quality female associates. These efforts allow its members to call on each other as resources. Anyone joining us can participate as an at-large member or become more involved in different leadership roles.